How Our Quail Hens Are Cared For
Answering your most popular questions about our farm!
Here at Spring Creek, we believe that caring for any living creature — no matter their size — is a responsibility that shouldn't be taken lightly.
That's why we treat caring for our quail as a privilege. When we treat them right, they give us their best eggs.
So what's all included in their care? Here are some of our most frequently asked questions, answered!
What breed of quail do you care for?
Here at our farm in Saint Anns, Ontario, we hatch and care for the birds known as the "Japanese Quail," or scientifically speaking, Coturnix japonica!
They're cute and small ground-nesting birds who are happy to be alive almost right after they hatch — walking and feeding within a few hours! When Spring Creek began, we chose quail over chickens because we believe quail are a happier bird that produces tastier eggs.
Some other fun facts about quail:
They're super soft to the touch.

Their bodies really are shaped like a pear! (You might have noticed from our logo!)

Their call is distinctly rhythmic and vocal — not unlike music you might hear on the radio.
How do you hatch them?
At Spring Creek, we do all of our own breeding and hatching to ensure it's done humanely and ethically. Our egg hatchery is certified by the Canadian Food Inspection Agency to ensure we're meeting the highest standards.
Our eggs are kept at the perfect temperature and humidity throughout the hatching process — keeping our quail happy from day one! We typically hatch over two million quail each year.
Once they've reached seven weeks of age, a quail hen is ready to gift us with their eggs, laying almost an egg per day!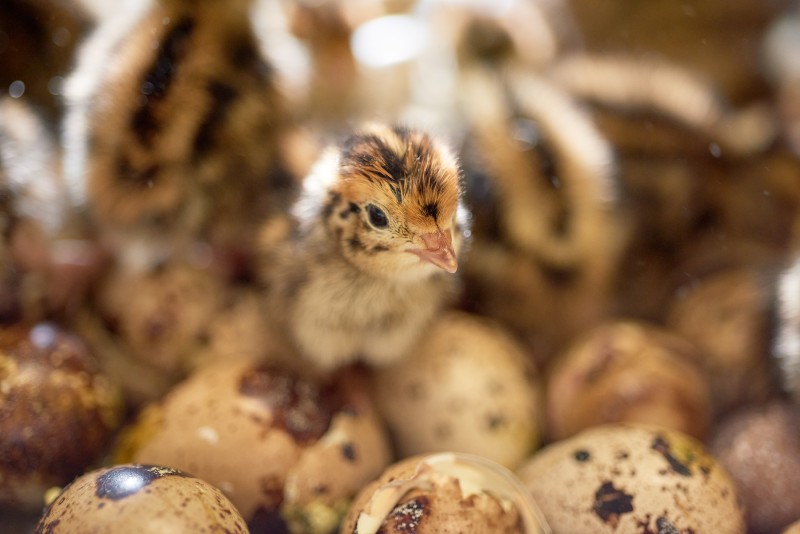 What are their lodgings like?
Our quail are housed in specially designed climate-controlled environments. 
Quail are naturally a tropical bird and highly sought after by predators such as hawks and birds of prey, which is why we keep them indoors.
The lighting we use is designed to mimic the natural sunrise and sunset of a normal day — no wonder they're so happy! We also constantly check to ensure that the temperature and lighting are optimal for their wellbeing. We also use fresh wood chips as bedding for our chicks — similar to what we use for our kids' playgrounds!
What do they eat and drink?
Our quail grow in a comfortable environment, where they enjoy a delicious and nutritious grain mix from local farmers, drink double-filtered water, breathe fresh air and never receive antibiotics or hormones. 
Because quail farming is a niche, we've travelled the world to learn from the top experts. In fact, we didn't feel North American standards were high enough for our girls, so we raised them to the same standards as their French, Spanish and German relatives. Our flock manager knows quail and works with other specialists to keep them happy and healthy.
We care for our quail by monitoring their health and wellbeing 24/7. Anyone who comes to visit will see that we're constantly walking through the flock, making sure that their access to feed and water is never inhibited.
Do you ever give your quail antibiotics or hormones?
Absolutely not. We never give our quail antibiotics or hormones — we care for them as naturally as possible!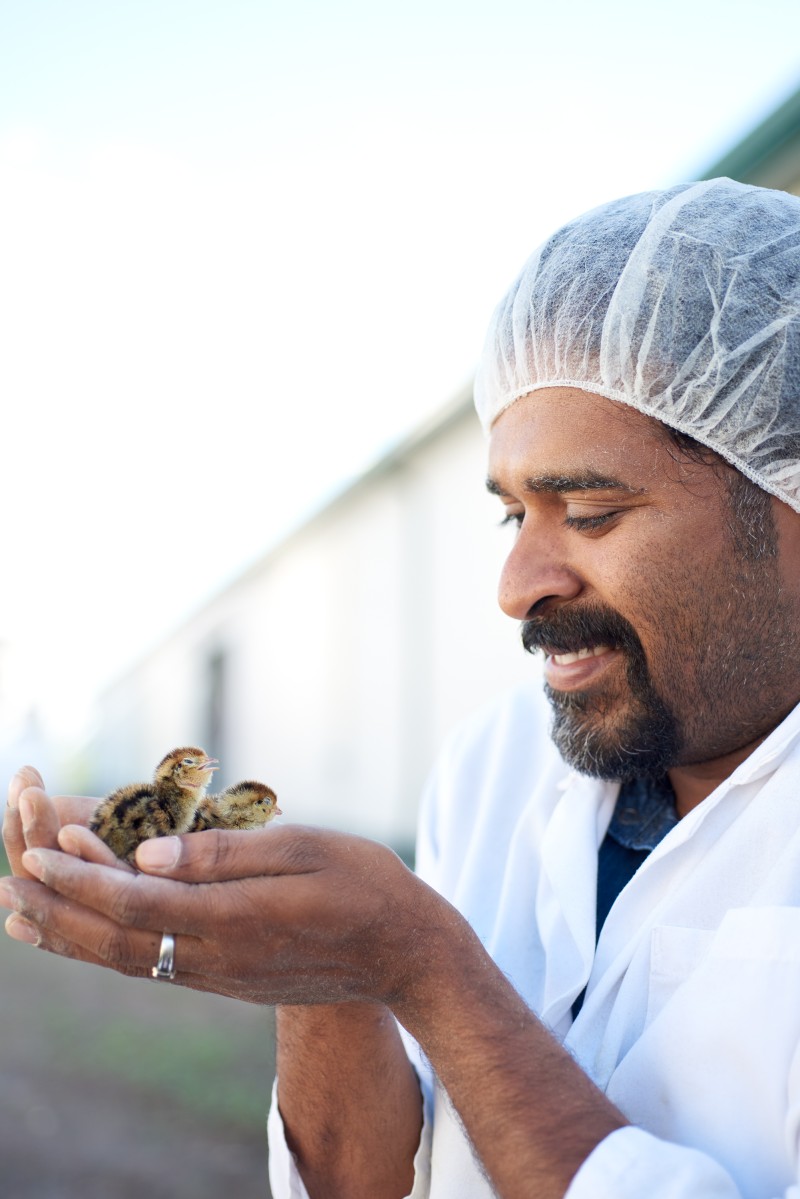 Are your staff certified?
Our staff are HACCP Certified. HACCP stands for "Hazard Analysis and Critical Control Points." Basically, it's a rigorous approach to food safety — making sure that not only our quail are safe, but also the eggs you eat too!
Since we're on the topic of certification, our farm is audited yearly for compliance with the Safe Food for Canadians Act (SFCA).
What do you do with any quail waste?
As conscious stewards of our planet, we run a clean, zero-waste operation. Any organic waste is used as compost to grow organic fruits and vegetables at a local farm just down the road!
We don't take all of this for granted!
We go to great lengths to keep our quail happy because we know that it's the only way you'll get the best eggs.
Like any animal, each quail has requirements for not just surviving, but thriving! And we hope this shows you how far we're willing to go.
Still have questions? You can always give us a holler at info@springcreekquail.ca, or send us a DM on Instagram or Facebook!