Where Can I Buy Quail Eggs?
Where to look in grocery stores, how your quail eggs should look and what stores carry us!
Quail eggs. They seem like a delicacy, yet they're lining the shelves of more and more stores every year.
Our mission as a farm is to make this tiny but mighty and healthy but delicious egg available to as many people as possible… including you!
And yet… one of the top questions people search every year is: "Where can I buy quail eggs?"
Well, well. You came to the right place. Here's where to look in the grocery store, what to look for in your eggs, and what stores carry us (hint: it's a lot more than you'd think!).
Where are quail eggs in the grocery store?
Many of us think of the canned quail eggs that line the ethnic or international sections of supermarkets around North America. Those are widely available, but we all know fresh is best!
So where can you find these cuties? 
Stay away from the centre aisles of the grocery store if you're looking for fresh ones. We're typically stocked right next to all of the other eggs in the corner of the store, by the dairy.
They're meant to be kept refrigerated, so look for fridges. And when you bring them home, keep them cold to extend their freshness!
Next time you're in the store, see if you can find 'em. All of the retailers who carry our eggs have access to our bright and bold point-of-sale materials, so you should see lots of Spring Creek signage!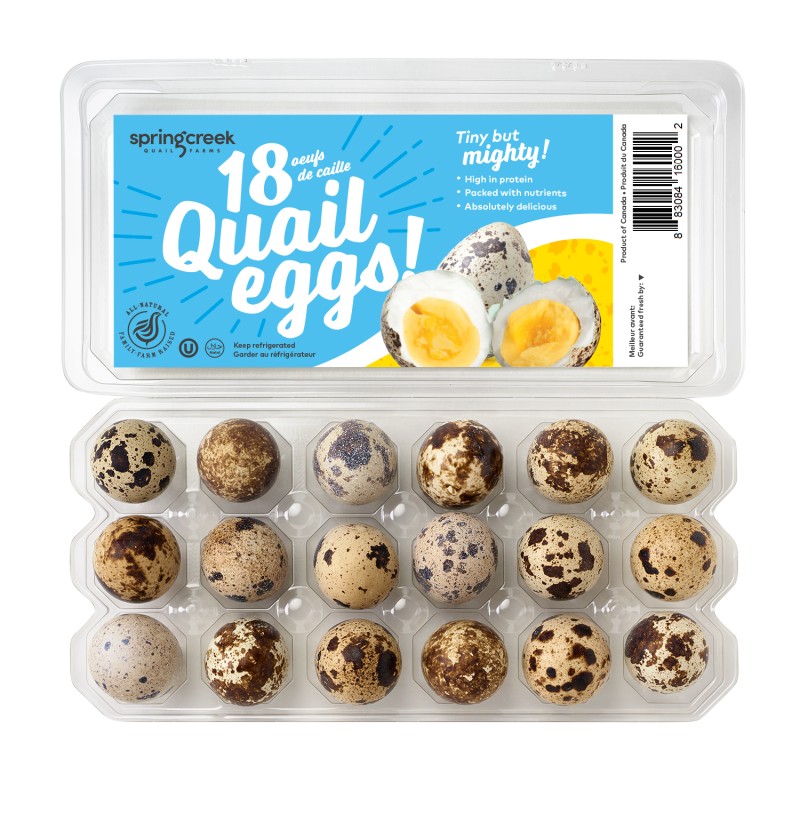 What should my quail eggs look like?
Quail eggs are amazing in that every single one is unique. They have a beautiful brown and white speckled pattern that is different on every egg.
Your eggs should have:
A strong shell with no visible cracks, holes or weak spots

A beautiful light brown or off-white colour with brown spots or "speckles," with no dark rings or spots. Anything that looks solid brown or overly white shouldn't be eaten.

A fresh smell, similar to what fresh chicken eggs smell like. If they smell funky, leave them be. 

Curious how our eggs get from our farm to your table? We wrote all about it here.
What grocery stores carry Spring Creek eggs?
It all depends where you live, but you can find us at many retailers large and small across Canada and the United States! Some of the big ones are below but if you want a better view, use our store finder tool to find the closest to you!
Ontario — Find us in Sobeys, Costco, Metro, Food Basics, FreshCo, Farmboy, Fortino's, Foodland, Goodness Me!, Pusateri's, Whole Foods, T&T and more!
Quebec — The big ones here are IGA and Sobeys, but we're in plenty of other retailers too.

British Columbia — Save-On-Foods and T&T, among others!

United States — Find us at Mariano's, 99 Ranch market, Market Basket, HMart, Kroger and other retailers. If you don't see us, ask!
We're also in select stores in Alberta and New Brunswick. Just enter your address or location on our store finder tool and the closest stores carrying Spring Creek eggs will pop up. Give it a try!

Find a Store
P. S. If you're already aboard the quail egg train, check out our extensive recipe library! Or if you still have more questions about quail eggs, we answer them at length here.