The No-Stress Approach to Back-To-School Lunch
Quick and nutritious quail recipes from Spring Creek Quail Farms
As the kids head back to school, we know how much its sucks having to pack a lunch that's both nutritious and actually gets eaten. It's enough to make you wish for a couple more months of summer vacation.
Gone are the days of simple PB&J sandwiches and an apple. Your parents didn't have to worry about  creating Instagram-worthy lunches or getting a note from the teacher about the quality of your kid's lunch. But, no more worries… we've got a ton of fun and delicious recipes that'll make you the lunchtime champion — featuring quail eggs from Spring Creek!
These little powerhouses are bursting with taste and nutrition, and they'll make packing lunch a joy (okay, not exactly a joy, but you won't stress about it as much!).  And kids love the cute little eggs…Trust us, they're a game-changer!
Let's talk about the amazing benefits of quail eggs. 
They're packed with nutrients that your child needs to thrive. We're talking about selenium, riboflavin, vitamin B12, iron, protein, antioxidants, and brain-boosting choline. These speckled cuties are like a superhero in a tiny shell! No wonder people call them a "superfood."
Say goodbye to the lunchtime dilemma of "what should I pack today?" Our fabulous chef, Andrea Monzon, has got your back with her quail egg creations. We've got options like:

Chorizo Potato Tacos with Quail Eggs — Give taco Tuesday a twist with these chorizo potato tacos featuring quail eggs. The combination of savory chorizo, tender potatoes, and perfectly cooked quail eggs will make these tacos a lunchtime hit.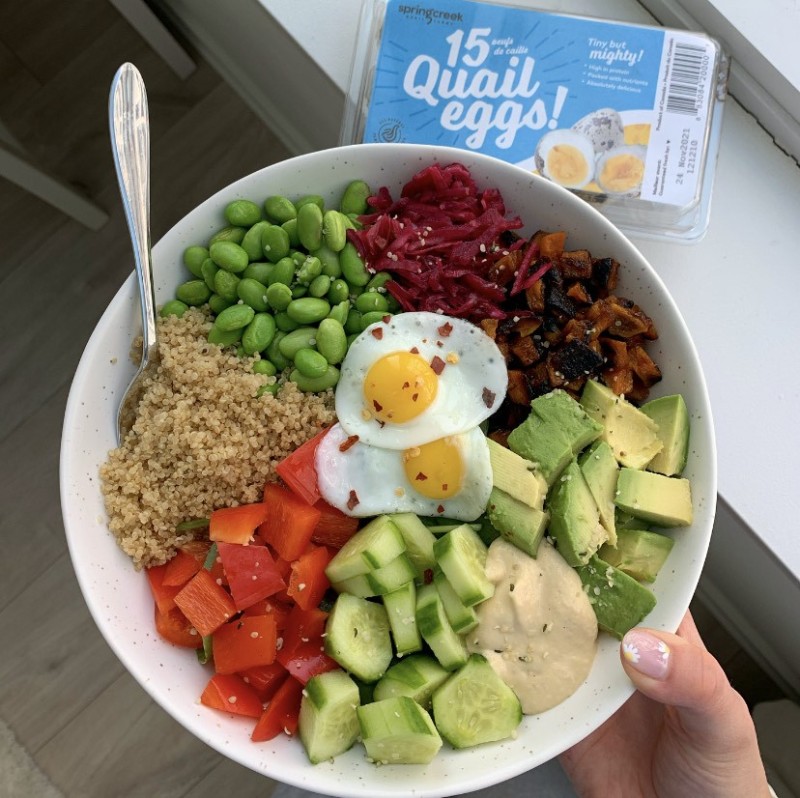 Mouthwatering, right?
But wait, there's more! Check out our recipe page for other mealtime ideas, including breakfast, dinner, and sweet treats like Sticky Toffee Pudding Squares and Baked Pumpkin Doughnuts. With these recipes, you'll have no problem getting the kids to eat what you pack. 
Spring Creek Quail Farms isn't  your ordinary farm. We're all about ethical and sustainable practices on our zero-waste farm. Our hens are cared for without antibiotics or hormones, creating a guilt-free choice that'll tantalizes your taste buds. 
So, where can you find Spring Creek Quail eggs?
Foodies have treasured quail eggs for their exquisite taste and used to be considered a high-end delicacy, only available in limited locations. But at Spring Creek, our mission is to make them easily available to everyone. You can now find quail eggs at stores near you across Canada and the U.S., including Whole Foods, Costco, Sobeys, IGA, and many more. 
Pick some up today and send your little cherubs to school with a healthy, delicious lunch that they'll actually eat.  It's time to shine, lunchtime superstar!